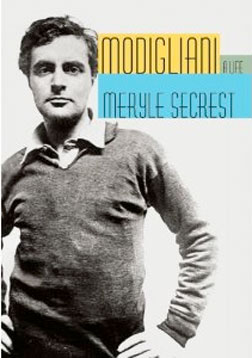 Chapter 8: "What I Am Searching For"; Chapter 9: Maldoror
Paul Alexandre remained Modigliani's benefactor, and the two were in close contact until the start of the war in 1914. In 1913, the city finally took over Alexandre's villa on the rue de Delta, so his new apartment at 10 Place Dancourt, next to the Théâtre de Montmartre, became the location of the salon. Modigliani even took over the interior decoration of the apartment: To emphasize its high ceilings, he had the legs of tables and chairs shortened. Alexandre recalled, "Right up high, on a level with the chandelier, we hung Modigliani's large red figures" -- works that have never been identified.
Modigliani, Picasso, and André Salmon at the Café Rotonde, 1916
Artistic life still centered on cafés, particularly the two at the corners of the boulevards de Montparnasse and Raspail, the Dome and the Rotonde. Americans flocked to the former, but the artists, including Picasso, Diego Rivera, Ilya Ehrenburg, Ortiz de Zarate, Max Jacob, Apollinaire, and of course Modigliani, preferred the Rotonde.
Picasso had become the dominant artistic figure of the day, and his success enabled him to move into an elegant apartment at 242 boulevard Raspail. Modigliani venerated Picasso, but he once told Louis Latourette that the only other painter he admired was Henri Rousseau, who at sixty-five had become the "Grand Old Man of art." Rousseau's
The Wedding Party
made a profound impression on Modigliani when he saw it with Alexandre.
Henri Rousseau, The Wedding Party, 1905 (Source)
In 1910 Rousseau completed his most famous painting,
The Dream
, and in March exhibited it at the Salon des Indépendants. Unfortunately, Rousseau was hospitalized that summer after an accident and died on September 2.
The Dream
had a profound affect on numerous artists, for "with his direct line to the unconscious, [he] seemed to have discovered intuitively what the Surrealists ... would have to puzzle out painfully in the years to come."
Henri Rousseau, The Dream, 1910 (Source)
During the four years, from 1910 through 1913, that Modigliani devoted himself to sculpture, he met a Portuguese artist, Amedeo de Souza Cardoso, who not only shared a name with him but whose style also resembled his, though it was more highly colored. Cardoso came from a well-to-do family, and "in 1911 the two Amedeos decided to hold their own show. Cardoso's paintings and drawings were hung beside Modigliani's caryatids, and seven of Modigliani's heads were placed, with great care, around the room. It was a bold, even clever move. Friends came to admire but did not stay to buy. The critics ignored the exhibition. Nothing sold." Modigliani did not sell a sculpture until 1913, when Augustus John and his wife visited his studio and bought two of them for a few hundred francs.
Amedeo de Souza Cardoso, Saut de lapin, 1911 (Source)
The café scene was one source of income for Modigliani, who "joined the legions of 'café artists' who made the rounds in the hope of finding willing sitters." He would carry his portfolio and make his way among the tables, sizing up customers susceptible to flattery, and if lucky would sketch a portrait to sell, or just a sketch in exchange for a drink.
He also did portraits of his friends, including Jean Cocteau, who called the painting of him by Modigliani "diabolical," and although he paid "the derisory sum of five francs" for it, tried to leave it with a friend who finally gave it to the proprietor of the Rotonde in payment of a debt. It hung in the café for several years and then passed from hand to hand until an American couple bought it for several million francs, to Cocteau's irritation.
Amedeo Modigliani, Portrait of Jean Cocteau, 1916 (Source)
Modigliani also befriended Maurice Utrillo at a time when, like Modigliani, he was having no success selling his work, and was even made sport of because of his outrageous behavior when he was drunk. "Curiously, no paintings or drawings of Utrillo by Modigliani have come down to us, although the artist memorialized almost everyone he knew, sometimes repeatedly."
Maurice Utrillo, Le Lapin Agile, date unknown (Source)
One artist whose portrait Modigliani painted several times was Chaim Soutine. He resided in the complex designed for artists by Alfred Boucher, a sculptor and philanthropist. Boucher bought up one of the pavilions designed by Gustave Eiffel for the international exhibition of 1900 and had it moved to the southern edge of Montparnasse. He called this honeycomb of studios La Ruche, "the Beehive." In addition to Soutine, its residents included Léger, Chagall, and Archipenko. It had a disadvantage in that it was next to the slaughterhouses and their attendant sounds and smells, though Soutine turned it into an advantage by painting a series of flayed carcasses.
Chaim Soutine, Carcass of Beef, c. 1926 (Source)
Modigliani acted as a kind of mentor to Soutine, who had grown up abused and neglected until he was rescued by a rabbi who recognized his artistic talent and sent him to art school. Modigliani tutored him in French and helped him develop self-confidence.
The manner in which Modigliani painted hands is often meant as a clue to the initiated. In one portrait of Soutine Modigliani seems to be emulating the model set by Cézanne some years before. In his portrait La femme à la Cafetière, Cézanne depicts a lady, stolid, mannish, all in blue, hands limply placed in her lap. She looks formidable, but then one notices that her sleeves stop short to reveal her oddly vulnerable wrists.
Paul Cézanne, Woman With a Coffee Pot, c. 1895 (Source)
Modigliani used this device to the same effect in one of his portraits of Soutine, then in his early twenties but looking more like a forlorn adolescent.
Amedeo Modigliani, Portrait of Chaim Soutine, 1916 (Source)
In another portrait painted the same year (1916), Soutine's right hand, resting on a knee, is oddly placed with a gap between the third and fourth finger. This was meant, Marc Restellini wrote in L'Ange au Visage Grave, to signify the Jewish priestly blessing. If so, it was a subtle reference to the heritage they shared that many would not recognize.
Amedeo Modigliani, Portrait of Chaim Soutine, 1916 (Source)
Having grown up in a household with its own set of superstitions, Modigliani carried many of them into his adult life and developed his own metaphysics where art was concerned. He remained interested in the occult, and was fascinated by the prophesies of Nostradamus. But he was also caught up in the intellectual currents that would produce Surrealism. In a 1907 sketchbook he wrote:
What I am searching for is neither the real nor the unreal,
But the Subconscious, the mystery of what is Instinctive in the Race.
This was ten years before Apollinaire coined the term Surrealism, and seventeen years before the first of
André Breton's manifestos
. "His goal in plumbing what Jung has called the collective unconscious was to search for spiritual insights, 'the secret truth of the profound being in which he had the originality to believe.' Restellini wrote, 'Behind the legend of the sole
artiste maudit
of the twentieth century stands a visionary artist with an extremely radical philosophical conception of his art."
In 1911, Paul Alexandre's mother died of tuberculosis, and Jean Alexandre would follow in 1913. During the winter of 1912-13, Constantin Brancusi discovered Modigliani unconscious in his studio, and sometime in the same winter he collapsed again. When Ortiz de Zarate found him in a faint on the floor, he started a collection to send Modigliani back to Livorno to recuperate.
In the summer of 1913, Modigliani was back in Livorno, with his head shaved, perhaps after a hospital stay in which he may have been treated for, among other things, head lice. Emanuele remembered the shock at his appearance when he returned. "Naturally he was nursed, well fed, and brought back to a sane health," Emanuele wrote.
When he came back to Paris later that summer, he had apparently given up sculpture. Perhaps the work of stonecutting was too hard for him, and the dust affected his lungs, or he decided that painting was more likely to produce an income than sculpture. But 1913 was also the year of the Armory Show, the great exhibition in New York that introduced modern art to the United States. Modigliani was not included in the Armory Show, either as painter or sculptor, but European sculpture was in general poorly represented in the show, which may have suggested to Modigliani that the path to success was through painting. Only twenty-seven of Modigliani's sculptures survive, with the result that they are much sought-after: One of them sold at Christie's in London for $52.8 million in June 2010.
Although the Cubism of Picasso and Braque had not been well represented at the Armory Show, it had become the dominant movement of the day. Modigliani, however, was content to leave it to them. Pierre Daix, an expert on Picasso's work, detects the influence of Picasso's "masklike stylization and geometrical emphasis" in such paintings by Modigliani as
The Amazon
and
Woman's Head With Beauty Spot
.
Amedeo Modigliani, Woman's Head With Beauty Spot, c. 1906 (Source)
Amedeo Modigliani, Portrait of Pablo Picasso, 1915. Secrest: "It is a curious picture. The paint is almost scrawled across the canvas in a furious fashion, unlike Modigliani's carefully developing style. The subject's penetrating stare is masked, the mouth is small and set, and the expression is secretive, almost cunning. The word "savoir," knowledge, learning, or "to know" has been appended. Restellini suggests that this perhaps refers to ... Picasso as a visionary. Was that really meant as a compliment or, as Billy Klüver believed, 'an ironic comment about the guy who knows it all'?" (Image source)
"When asked to what 'ism' he belonged and in what manner he painted, he would always reply, 'Modigliani.'" If there was a real tension between Picasso and Modigliani, it may have been "that Modigliani, ever alert to signs of anti-Semitism, had overheard a certain unkind remark from Picasso" regarding the repayment of a debt Picasso owed Modigliani. And once, in 1917, when Picasso was unable to sleep, he decided to paint something and used the surface, not the back, of a painting he had acquired from Modigliani. "He evidently felt the urge to obliterate the work of someone with whom he was, obscurely or otherwise, in competition."
Some date the return to Paris from Livorno in 1913 as the start of Modigliani's self-destructive period: "It is axiomatic that Modigliani was a brilliant young artist who ruined his health and died prematurely from drugs and drink. Even authors who are aware that he had tuberculosis take the same similarly dismissive attitude; the addiction showed the extent of his self-destructiveness." But Secrest argues that this attitude is based on an experience of tuberculosis as a curable disease. In Modigliani's day, it was not only a death sentence, but bore the stigma that AIDS has carried in our time -- or perhaps worse, for tuberculosis was more easily transmitted than HIV.
Only a few people knew that Modigliani had tuberculosis, Secrest observes. His use of alcohol certainly increased after 1913, but one reason may have been that alcohol was the readiest way to handle the coughing and spitting that are symptoms of tuberculosis. "The consumptive took a small sip here, another sip there, whenever he or she felt a cough coming.... Friends attest to the fact that the moment Modigliani arrived at a café he wanted a drink. Nobody mentions spitting or coughing, which indicates a secret successfully kept." The natural consequence was drunkenness to the point of making a nuisance of yourself except to forgiving friends.
Here was no shambling drunk but a man on a desperate mission, running out of time and calculating what he had to do in order to keep on working and concealing his secret for however long remained. He was gambling, and willing to take the consequences. It must have been a courageous and lonely masquerade. At the same time he was launching himself on the most successful and productive period of his career.
Amedeo Modigliani, Portrait of Guillaume Chéron, 1915 (Source)
Modigliani finally found a dealer, Guillaume Chéron, a former wine merchant who decided to switch to art after he married the daughter of a dealer. He provided Modigliani with ten francs a day, plus a studio, materials, a model, "and the necessary bottle of brandy." The arrangement didn't last long, but when Modigliani split from Chéron, his friend Max Jacob introduced him to a better dealer, Paul Guillaume.
Amedeo Modigliani, Portrait of Max Jacob, 1916 (Source)
Amedeo Modigliani, Portrait of Paul Guillaume, 1916 (Source)
After Modigliani's death, Guillaume defended his client against charges that he was a boorish drunk. Modigliani "was shy and refined," and he resented being treated like a charity case. Jacob too recalled that Modigliani could be delightful -- "a charming companion," "naturally erudite, a good debater on art and philosophy, amiable and courteous" -- when he wasn't drunk. "That was his real nature, but nevertheless he was just as often crazily irritable, sensitive, and annoyed for some reason he didn't know himself." Again, covering up the secret of his disease led to misunderstandings about his true character.
Secrest finds one of the keys to Modigliani in a book called
Les Chants de Maldoror
, by Isidore Ducasse, who called himself the Comte de Lautréamont. "Part Gothic fantasy, part serial novel and horror story,
Les Chants de Maldoror
is not a song or even a poem but a kind of interior monologue." Modigliani first read it about 1910 and found it "a life-changing experience," as did André Gide. The book also had a profound influence on the Surrealists, particularly André Breton and Salvador Dalì. Like Modigliani, Ducasse also had tuberculosis, and died of it a year after the book was published, in 1870, age twenty-four. Modigliani memorized large parts of the book, and in 1913, when he gave a drawing of one of his caryatids to a friend, he inscribed it "Maldoror to Madame."