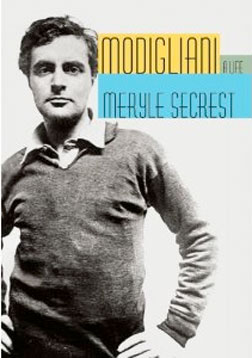 Chapter 14: The Cult of the Secret; Epilogue
Secrest analyzes one of the last portraits of Jeanne Hébuterne:
She is sitting on a stool in front of a door in a corner of the room. Her swollen stomach is hidden under an opaque black skirt and a kind of scarf or stole is wrapped around her shoulders. The theme is heavily red, from the vivid crimson of the bodice to the vermilion wall paint and door to the reddish browns of the wooden stool and blackish browns of the floor. Her skin tones, which are pinkish in earlier paintings, have been drained into a sallow, uniform yellow. The boldly stressed silhouette, annotated in black, gives a feeling of foreboding, even menace, to what should have been an occasion to be celebrated by the father-to-be. However, if one theorizes that perhaps Modigliani is making a reference to the idea of alchemical transformation the painting, far from being an anomaly, takes on an interesting new dimension. It can be read as a clue to unlock the mystery of Jeanne Hébuterne's death. In alchemical transformation the colors red and black signify stages in the process of transfiguration.
Amedeo Modigliani, Portrait of Jeanne Hébuterne, 1919 (Source)
Modigliani came from a family interested in the occult, and Beatrice Hastings was into Theosophy, among other things. As for alchemy, he once worked alchemical symbols into a statement he appended to a drawing, so he was certainly familiar with the subject. But can the painting really "be read as a clue to unlock the mystery of Jeanne Hébuterne's death"? Secrest comments, "It is tempting to think that Modigliani had convinced Jeanne that death was as easy as walking through a door and that it would lead to their reunion in a higher sphere."
Secrest also points to four watercolors by Jeanne that were found in the apartment after her death. One depicts the interior of a room that "Restellini believes ... describes the Hébuterne apartment at the moment when Jeanne and Modigliani met." It includes a picture of her brother, André, who had left for the war, and a clock painted black, though the other colors in the painting are "pretty pastels." The next seems to be a memory of their stay in Nice and features Modigliani and Jeanne seated at a table with her mother, Eudoxie. "Modigliani's jacket and tie are black and the sockets of his eyes are painted black. Her hand is placed protectively over his and to the right of her plate is a black knife. Restellini believes that "death is making its presence felt."
In the third painting a naked girl with long tresses is asleep in a single bed. Her features have been left unpainted but the reference is clear enough, as is the figure all in black that stands at the open doorway. It could represent Maldoror or perhaps a priest, or simply a personification of Death. The themes of black and red, in the visitor's clothing, the mat on the floor, and the crimson towel hanging over the door, make the meaning clear.
Jeanne Hébuterne, watercolor, 1919 (Source)
In the fourth and final frame, the heroine, on her red bed and white sheets, having thrust a dagger into her heart, lies head downward, her russet hair streaming behind her. The dripping dagger, the scarlet skirt, the vermilion blood, even her necklace and bracelet, repeat the overwhelming theme. Only the skirt that covers her unborn child retains its traces of green, hemmed around in black. Her intentions could not be more specific. The only issue left was exactly how and when.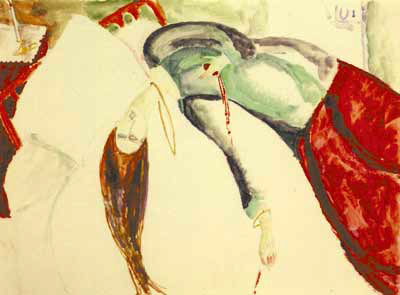 Jeanne Hébuterne, watercolor, 1919 (Source)
Jeanne took her life, and that of the child she was carrying, at three a.m. on January 25, the day after Modigliani's death; she jumped from the sixth-floor window of the apartment where she was staying with her parents. It doesn't take any alchemical speculations about transformation or meeting into the afterlife to solve the "mystery" of Jeanne's death: She had just lost the most important person in her life, and she was about to give birth to a child that she didn't want -- she had already rejected the first child from their relationship. Stress and hormones alone can explain why she killed herself. Moreover, her family had disapproved of her way of life, and she was facing a future in their custody.
She was not initially buried with Modigliani. The famly took her body to another cemetery, and the funeral was as private at they could make it. The fact of her suicide was somehow covered up from the authorities to allow her to be buried in consecrated ground.
The Hébuternes did not want to take responsibility for their daughter's surviving child, who was now thirteen months old, but the Modiglianis did. Emanuele and his wife, who were childless, adopted Jeanne as soon as they could, given that paperwork involving two countries was a problem, and by June 1920, Jeanne Modigliani was living with them in Florence. In March 1923, she was declared legitimate based on the statement signed by Modigliani in 1919 that he intended to marry her mother.
Grave of Modigliani and Jeanne in Père Lachaise. (Source)
Eugénie Modigliani wanted Jeanne Hébuterne's body to be moved to Père Lachaise, and set about persuading the Hébuternes to allow it. She prevailed, especially after the death of Jeanne's father, Achille, the most devout of the Hébuternes, and Jeanne was interred with Modigliani in February 1927.
Modigliani's son by Simone Thiroux, Gérard, had been put up for adoption, and lived in an orphanage until he was adopted by a family named Carlinot in 1931. But the Carlinots divorced and the father took Gérard with him to Indochina, where the boy was unhappy and stowed away on a boat back to France. He reunited with his birth mother, and disappeared until a reporter discovered him in 1981, age sixty-four and the curé of a church in Milly-la-Forêt.
Emanuele and Vera Modigliani had been forced into exile in Paris in 1926, after Mussolini's rise to power. Jeanne Modigliani initially did not live with them, but with her grandmother, Eugénie, and then after her death with her aunt, Modigliani's sister Marguerite, who was a bit of tyrant and who detested Jeanne's father. In 1939, when Jeanne was twenty, she joined Emanuele and Vera in Paris, but the outbreak of war forced them to escape to Switzerland. Jeanne stayed behind in France, and married an Italian economist and journalist, Mario Cesare Silvio Levi. She also became a devout communist and took an active role in the Résistance.
She became involved with another Résistance fighter, Valdimar "Valdi" Nechtschein, who also used the alias Victor Leduc. He was her senior by eight years and was married, which she found no obstacle. She wrote, "Our union, begun in a moment of common danger, lasted for thirty years." She was imprisoned for several months in late 1943, but some forged documents obtained her release.
After the war ended, she divorced Levi, but Valdi had returned to his wife. In May 1946, Jeanne gave birth to a daughter she named Anne, whose father was Valdi. In the same month, Valdi's wife, Hélène, gave birth to his other daughter, Olga. Finally, Valdi began spending the weekdays with Jeanne and the weekends with Hélène. One reason for the arrangement was that at sixteen months Anne suffered a cerebral hemorrhage that resulted in paralysis and brain damage which would require years of therapy and several operations. After ten years of this arrangement, Valdi divorced Hélène and married Jeanne. Their second daughter, Laure, was born in 1951.
One reason that the Modiglianis were eager to have Jeanne's status legitimized was that according to the arrangement with Zborowski, one-fifth of the proceeds of any sale of Modigliani's work went to the artist or to his heirs. And after his death, the value of his works skyrocketed. "Emanuele could not have known how quickly Modigiliani's works would become valuable but he was concerned enough to safeguard Jeanne's legal right to royalties and percentages if any were to be had."
And as the value of Modigliani's work increased, so did the number of fakes. "Modigliani's style simplifies facial features and does not articulate anatomical details, such as cheekbones, shoulders, and rib cages," and the seeming simplicity of his style proved very attractive to forgers. As a result he "is one of the ten most faked artists in the world." As Modigliani's heir, Jeanne possessed the "
droit morale
" over his work, and had the power to certify a piece's authenticity. One dealer says, "Jeanne Modigliani was impossible because she signed authentication certificates in a very subjective way, without doing serious research." As a result some of the works she "authenticated" have since been discovered to be fakes. "Nowadays certificates from Jeanne Modigliani have been thoroughly discredited."
Jeanne Modigliani, c. 1964
In 1956, when Nikita Khrushchev took power in the Soviet Union and denounced Stalin, Jeanne was shattered. "It was a betrayal of her dearest hopes, one more way that life had let her down. She abandoned politics to concentrate on her art. She had been painting for several years and won a scholarship to work on a study of Vincent van Gogh." She remained estranged from her mother's family, whose "anger, no longer directed at Jeanne Hébuterne, had turned itself on her baby. That was in keeping with the popular view that if there was one thing worse than having an illegitimate child, it was being one." She and Valdi divorced in 1980, and she began drinking heavily. She died in July 1984.
Modigliani holds an odd position in art history: "In
Modern Art
, Meyer Schapiro's seminal work on art of the nineteenth and twentieth centuries, Modigliani's name does not appear.... Kenneth Clark's monumental study
The Nude
makes no reference to Modigliani's masterful studies of the female form despite the fact that the author clearly admired him at an early age." Marc Restellini observes, "The universities where Picasso or Matisse are much studied deem Modigliani a facile painter devoid of innovation." It may be because of the proliferation of forgeries, which suggests to some that his work is over-simple, or because he is not easily classified into any of the movements -- "Fauvism, Cubism, Surrealism, Futurism" -- with which he was contemporary. Nor is he regarded as influential on subsequent generations.